Online Business School for Florists
Get step-by-step systems to help you take control of your finances and create the security and freedom you've been dreaming of!
SHOP ALL COURSES
LIVE WORKSHOP...
Join Us For This In Person Workshop!
April 14-16--Join Hitomi Gilliam, Françoise Weeks, Phebe Robinson-Higgins and Alison Ellis for 2 Days of Sustainable Design Mechanics and Practical Business Training for Floral Designers & Farmer-Florists! 
GET DETAILS HERE!
SUCCESSFUL FLORISTS NEED MORE THAN DESIGN SKILLS
Level Up Your Business Skills
Get the knowledge and skills you need to implement a professional client workflow, attract great clients and pay yourself more.
NICE TO MEET YOU
I'm Alison Ellis
After training in traditional flower shops for 9 years, I was officially "done" working for other people, so I branched out on my own and started my home-studio business, Floral Artistry, back in 2002.
It wasn't exactly a glamorous beginning...I worked out of the kitchen in our 2nd story apartment for the first few years!..but one thing that made it all a little easier is the fact that my small business ALWAYS turned a profit! So it wasn't long before I was able to quite my day jobs and work for myself full time.
Now, 20+ years later, I'm still running a floral design business I love AND I get to help florists like you earn more money, work smarter, and book great clients with my online courses and 1:1 coaching.
READ MY STORY
"I can't recommend Alison's Flower Math course enough...it LITERALLY paid for itself in the first wedding...SO worth the investment!"
- Erin Shackelford
"I just booked my biggest gig yet by $3k! I just have to say...Alison's content works!"
- Jessica Ormond
"Your courses have been the most helpful tools I could ever ask for!...it has been imperative to my confidence and ability to bring in a profit."
- Jay
ONLINE COURSES
Real Flower Business School
Take control of your future with these comprehensive courses.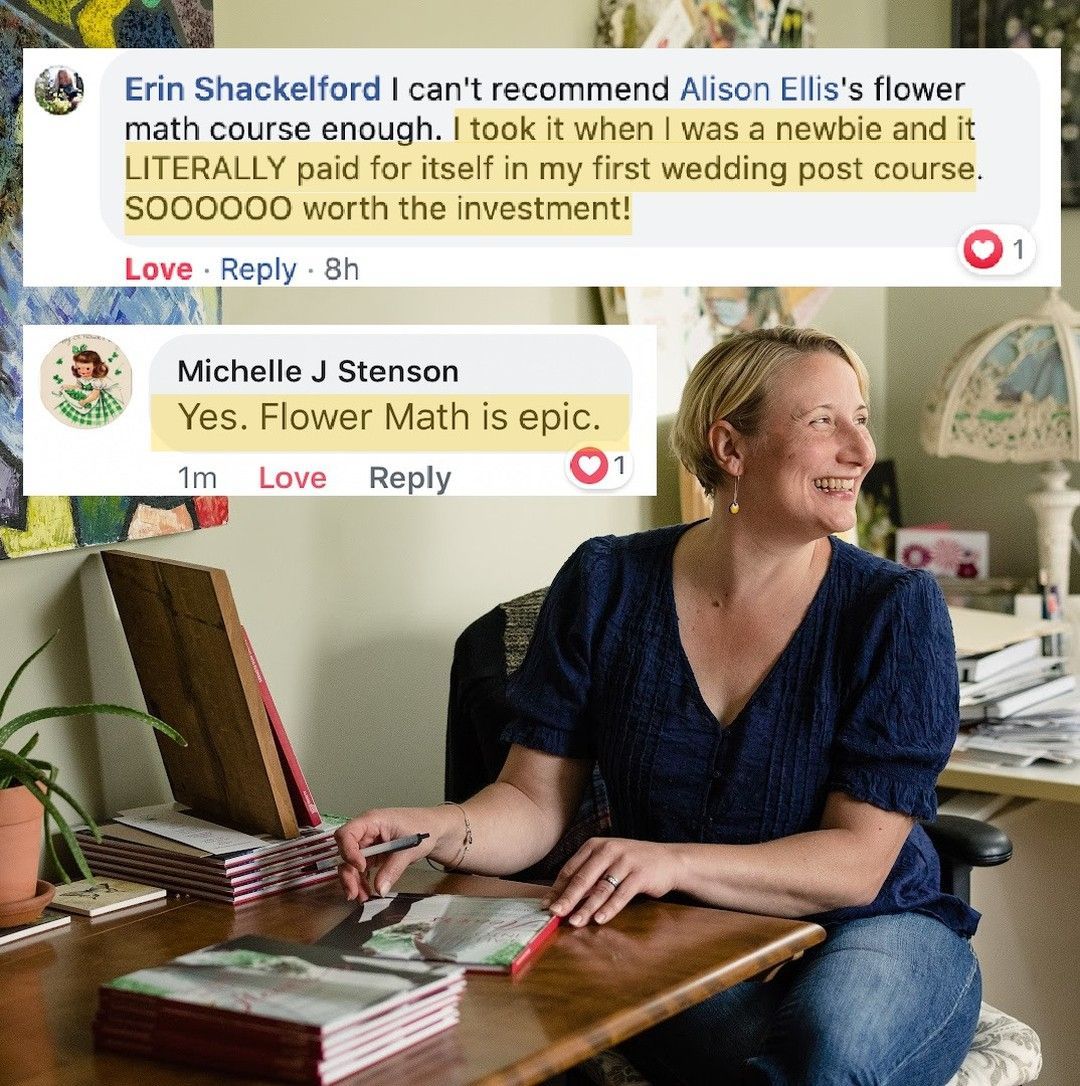 Pricing Foundations
Learn the proven pricing formulas to maximize your profit margin in an easy, step-by-step course, Flower Math.
LEARN MORE
Business Planning
Get your basic business plan in writing in 60-90 minutes to define your vision and follow a path to reach your goals.
LEARN MORE
Customer Management
Master your client communication and booking process with Email Templates, Proposal, Contract and Wedding Workflow for Florists.
LEARN MORE
How To Write Proposals
Simplify your sales process and book more wedding more quickly with my easy-to-follow template and bonus tips!
LEARN MORE